No one likes searching for a new job. But this dreaded process is something everyone has to do at least several times in their life. How much time and effort does it take to master job search?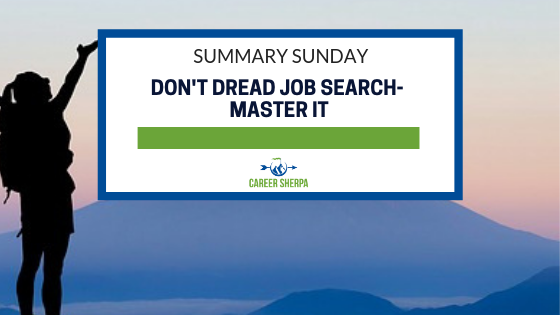 There's a learning curve each time you need to search for a new job and coming up to speed can take weeks of missteps as you learn the new intricacies of the process and strategies.
You know that feeling when you're in your zone…things are running smoothly.
You feel confident. You are ready to conquer your next mountain. That's what I want you to feel like every day you search for your next great gig!
Each Summary I compile contains top-performing articles that address common issues job seekers face as they ramp up their job searches. I share these hand curated articles to educate and inform job seekers to give the needed boost to their searches.
JOB SEARCH
Why Your Job Search Is Not Working — New Study Shows Disconnect Between Managers And Candidates
by Caroline Ceniza-Levine | Forbes
There is interesting data in this article but even better is the advice on how to improve your job search. Are you focusing on personal connections AND technology? It isn't one or the other, your job search needs both! See why!
How Top ATS Systems Analyze Your Resume
By Jon Shields, Jobscan.co | Job-Hunt.org
The more you understand how applicant tracking systems (ATS) work, the better you will be at writing a resume that reaches a recruiter's eyeballs. This article explains how three ATS work and how their search functionality prioritizes resumes.
INTERVIEWING
Want to Sound Emotionally Intelligent In Interviews? Avoid These 6 Expressions
by Judith Humphrey | Fast Company
People who are Emotionally Intelligent are aware of, control, and express emotions, as well as manage interpersonal relationships discreetly and empathetically. When you use any of these 6 expressions, you could be pointing out the fact that you do not work well with people. And in today's workplace- communicating and working well on teams are super important.
How to Negotiate for a Better Salary When You're Switching Careers
by Dr. Dawn Graham | Medium
"As a Switcher, you may feel you're not entitled to ask for more money. After all, you were lucky just to get the offer, right? Wrong" writes Graham. Mustering up the courage to ask for flexibility is the first step. This is an excellent article for anyone, but especially important for people switching careers.
LINKEDIN
5 Insider Tips for Getting Noticed on LinkedIn
by Donna Serdula, LinkedIn-Makeover.com
Not only will you see these tips in Donna's Business Insider video, you'll also get the tips in written form! Take some time to follow this advice to improve your LinkedIn profile and get noticed.
CAREER/WORKPLACE TRENDS
The End of Loyalty?
by Laetitia Vitaud | Mault
This will shed some light on employee and employer loyalty. Vitaud believes we need to redefine loyalty. This may not be a top priority for employers…yet. But it should be.
MENTIONS
8 Things That Can Hold Back Your Career
by Daniel Bortz | Monster
We all can pay a little bit more attention to our careers. This article lays out some of the many ways we hold our careers back. I was thrilled to be quoted in this article by my friend Daniel!

Hannah Morgan speaks and writes about job search and career strategies. She founded CareerSherpa.net to educate professionals on how to maneuver through today's job search process. Hannah was nominated as a LinkedIn Top Voice in Job Search and Careers and is a regular contributor to US News & World Report. She has been quoted by media outlets, including Forbes, USA Today, Money Magazine, Huffington Post, as well as many other publications. She is also author of The Infographic Resume and co-author of Social Networking for Business Success.