You never know when you'll need to start your next job search. The trick is to always be ready.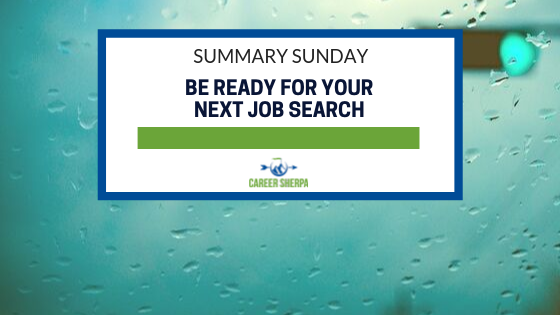 This week's summary includes articles covering some interesting research about the decline in US workers looking for new jobs. And is toxic workplace culture a reason to leave a job? Yes, SHRM explains recent data. You'll also find tips on how to make sure you are always job-search ready, how to find a job when you're unemployed, a fresh look at networking, and some new tools for Twitter and personal branding.
Here's what you need to know so you are ready for your next job search.
WORKPLACE TRENDS
Far Fewer U.S. Employees Are Job Hunting
by RJ Cheremond | Gartner
More than 53% of U.S. employees said they intend to stay at their current job when surveyed by Gartner in 2Q19. Not only are workers planning to stay, they also appear to be putting more time and effort into their work.  This is a summary of key points found in the Gartner 1Q19 Global Talent Monitor.
The Impact of Toxic Work Culture Comes With A Quarter-Trillion Dollar Cost
by Workplace Convos & Coffee | SHRM
Interesting stats and findings based on recent SHRM research.
49% of Americans have thought about leaving their current organization.
Almost 1/5 of workers have left a job due to toxic work culture within the last 5 years.
The cost of turnover due to workplace culture exceeded $223 billion over the last 5 years.
JOB SEARCH
How to Always Be Job Search Ready
by Adrienne Tom | Career Impressions
These tips from Adrienne Tom and her career colleagues will help you focus on the things you should be doing right now so you are ready to job search when it's time! Here are some of the basics:
Keeping abreast of job search strategies, gainfully employed or not.
Updating your resume often, not just when you need it.
Refreshing skills regularly. Never stop learning.
Building and fostering a strong network of connections you can lean into when needed.
Finding a Job When You Are Unemployed
by Susan P. Joyce | Job-Hunt.org
Here are 5 keys to finding a job when you are unemployed. The secret is to take action and these are definitely do-able!
LINKEDIN
Guide to LinkedIn Profile SEO in 2019
By Susan P. Joyce | Job-Hunt.org
Are you ready to take steps and make your LinkedIn profile stand out? This article lays out the reasons why  SEO (search engine optimization) is important and how to get your Profile ranking well in LinkedIn search results.
NETWORKING
3 Simple Things That Will Make You the Most Interesting Person in Any Conversation
by Marcel Schwantes | Inc.
To put a fresh spin on networking, Schwantes suggests doing these 3 things:
Be intensely curious
Be a good listener
Stop asking dumb and uninteresting questions
He also provides some conversation-starting questions you'll want to try out.
TWITTER
21 Twitter Tools That Every Twitter Power User Must Know Of
by Srikanth AN | ShoutMeLoud
Even if you aren't a Twitter Power User, some of these tools are great to know about!
PERSONAL BRANDING
How a Consulting Agency Upgraded Their Content By Switching to Visme
by Chloe West | Visme
When a solopreneur needed a design software that allowed her to create more polished digital products and marketing content to attract bigger and better clients, she turned to Visme.
This case study is applicable to job seekers as well. A unified and professional-looking set of marketing materials will help set you apart. While I love Visme and recommend it, read this through the lens of a case study on personal branding.
RELATED CONTENT

Hannah Morgan speaks and writes about job search and career strategies. She founded CareerSherpa.net to educate professionals on how to maneuver through today's job search process. Hannah was nominated as a LinkedIn Top Voice in Job Search and Careers and is a regular contributor to US News & World Report. She has been quoted by media outlets, including Forbes, USA Today, Money Magazine, Huffington Post, as well as many other publications. She is also author of The Infographic Resume and co-author of Social Networking for Business Success.