I love hearing stories with happy endings.  Don't we all?  They warm the heart, give us renewed faith in the "niceness" of humankind.  They make ME smile!
I was grinning big time when I opened my email from LinkedIn with the catchy subject line "Hannah, 117 connections changed jobs so far".  (And writing catchy subject lines is a whole post by itself!)
Here's what I saw when I opened that positive, personal email from LinkedIn: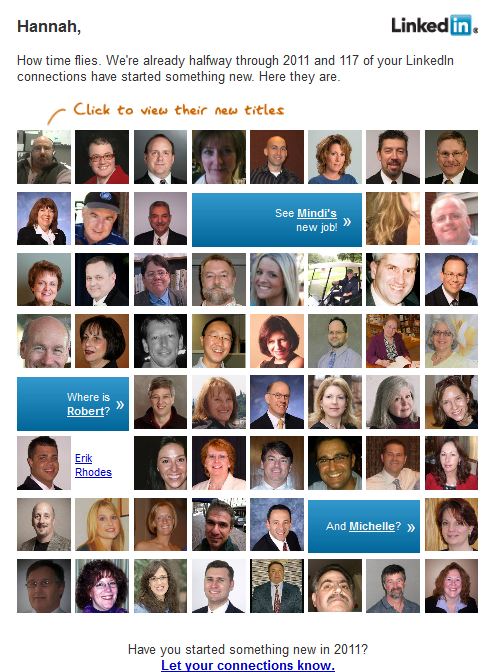 I'm not a dope. I realize that all these connections may not have secured new jobs, just merely changed their titles.  That's fine.  However, I am pretty sure many did get jobs!  This is good news!
This is a super opportunity to reach out, congratulate them or just say hi!
Another important point is that this isn't the END of a job search story.  It may be the end for this particular search, but we all know that we should be looking for our next great gig all the time.
If you haven't received a happy email like this from LinkedIn, never fear.  You may.  But more than anything, let this be a reminder that you can, at any time, reach out to your LinkedIn connections and just say "hi"!
Do you want to help me create a happy ending?  I am competing in a guest blogging contest on JobMob (in case you hadn't heard!).  Would you do me a favor and click on over  to this post?  10 Sure-fire Ways to Boost Your Job Search.    I could win money or prizes and if I do, well, that can help me do some things!  Thanks to those who have already supported me!  The contest ends on Monday, August 8th.
I'll let you know what happens!