When gearing up for a job search, what's the one thing you obsess over more than anything else?
Your resume, right?
You will need help creating a solid resume.
To be clear, I don't write resumes and I don't like to provide resume advice. I'm not a fan. Of course you need to have a good one, but there are already tons of people (and experts) writing on the topic, so I don't need to.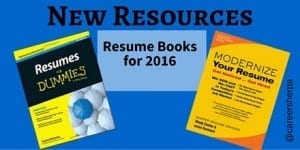 The Many Reasons You Need Resume Help
If you think you can dust off your old resume and add your new responsibilities, that won't work.
If you think you can use someone else's template, that won't work either.
When you go online to look for examples, those probably aren't the best ones for you reference.
If you're on the cheap and going to the library check out a book on resume writing, look at the date it was published. If that date is more than 5 years ago, the information is sadly out of date.
And what happens when you show your resume to 50 people and ask for feedback? You get 50 different opinions. (Funny thing about opinions, everybody has one!)
Hiring someone to write your resume (and a good one) can cost hundreds to thousands of dollars. I don't think your budget should determine the quality of your resume.
Good news. Two new books have hit the market and this is your chance to get the expert advice and help you need to create a powerful, contemporary document that should land you interviews, or at the very least help you get on a recruiter's radar.
[Full disclosure, both these books were sent to me at no cost to review. And one of my infographic resumes was featured in Modernize Your Resume: Get Noticed … Get Hired]
2 Resume Books for 2016 Job Search
Resumes for Dummies by Laura DeCarlo (Wiley, 2015)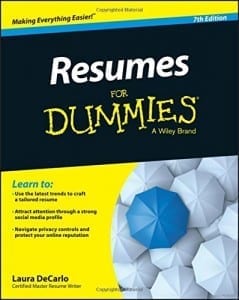 This is more than just a resume book. It addresses the new strategies you need to use in creating and distributing your resume. Laura DeCarlo's book walks you through the many important changes in recruiting. The book also addresses the important strategies for each section of the resume to help you design the best solution for your specific situation. The key is to understand who you are writing for and what they are thinking. From format to font, your resume's visual appeal is critical. The words you use to describe your experience are also important and DeCarlo's book has lists of "Wow words" to use. Whether you are just starting your career, switching careers, or returning to the workforce, you'll find valuable advice and recommendations on how to position/spin the situation on your resume (without lying).  Sure, there are sample resumes in this book too.
Resumes for Dummies is an all-inclusive book on how to create and use your resume so that it gets you results (an interview, not a job). Because a resume doesn't land you a job, you do!
What I Like About It
Like all the books in the Dummies series, it is easy to read skim and yet meaty enough to provide help. You can flip to the books sections and work on a specific troublesome part of your resume or once you are finished with your resume, use the book to help you troubleshoot why it isn't working.
DeCarlo refers to the sample resumes as OnTarget resumes. They've been customized by types of occupations, experience level and even special circumstances (too many jobs, gaps, and even military to civilian transition).
In Their Words
This is how the publisher promotes the book
"Resumes for Dummies spells out:
tips on avoiding common resume-writing mistakes
updates on the latest changes in the job market that you'll need to take into account when writing a resume
how to approach a lay-off in a professional light
how to confront privacy and reputation issues in online social job search
Whether you're a recent graduate, second-timer looking for your next job, prime-timer who hasn't job-searched in decades, or the unfortunate victim of a lay-off, Resumes For Dummies takes the fear out of putting your skills on paper and sets you on the path to getting your foot in the door—and landing the job of your dreams.
Everything you need to create a targeted resume
How to make your resume stand out in the digital age
Guidance on making the most of social networking in your job search
How to make education, skills, experience, and competencies work for you
The best type of resume for your career situation
Advice for first-time job seekers and recent graduates
A ten-point resume checklist to make sure your resume is the best it can be"
Modernize Your Resume: Get Noticed … Get Hired by Wendy Enelow and Louise Kursmark (Emerald Career Publishing, 2016)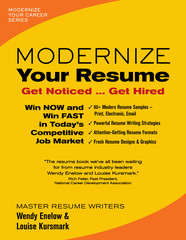 This book by Wendy Enelow and Louise Kursmark shows you, through examples, the many ways today's resume has evolved.
A resume is more than a listing of your work experience, it is a marketing tool. You'll get advice and examples on tightening the language you use on the resume to make it easier to digest, modern formatting ideas and samples of design elements and layouts that are being used on resumes.
Enelow and Kursmark have also included what you need to know about online job search strategies and how to create a resume to submit online, through email or present in person. There's even pointers on how to incorporate the information from your resume into your LinkedIn profile. Enelow and Kursmark provide advice so that your profile complements, not copies, your resume.
What I Liked About It
This book helps you step outside your resume comfort zone. You'll find graphics, testimonials, and logos within the samples provided. It contains just the right amount of information to help you understand resume writing and why, when and how to use your resume. I feel  Modernize Your Resume is most relevant for experienced professionals, either mid-level or above. It is very easy on the eyes, inspiring and you'll walk away feeling empowered to craft a resume that represents your style/personality. If you're tired of the same-old, same-old resume and want to try some new tricks, this is a book to check out.
In Their Words
"This book tells you and shows you how to write resume content that is powerful and meaningful, select the best format to highlight your career, add design elements for a competitive edge, and bring a positive mindset to the challenge of writing your resume and finding your next job.
You'll also learn how to create a modern resume that is both human-friendly and electronic-friendly for today's online, mobile, technology-based employment market.
80+ Sample Resumes: College grads to mid-career professionals to senior executives in a diversity of industries and professions.
Goal-Setting Worksheet: Starting point for every strong, well-positioned, and distinctive resume.
Career Vault: Structured technique  to collect and manage resume information for your career.
Dig-Deep Questions: Thought-provoking questions to uncover career achievements.
Verbs with Verve: 402 resume writing verbs to rev up your resume's vibrancy.
LinkedIn Profile Essentials: Strategies to translate resumes into powerful LinkedIn profiles."