How To Stay Motivated and On Track – FREE WEBINAR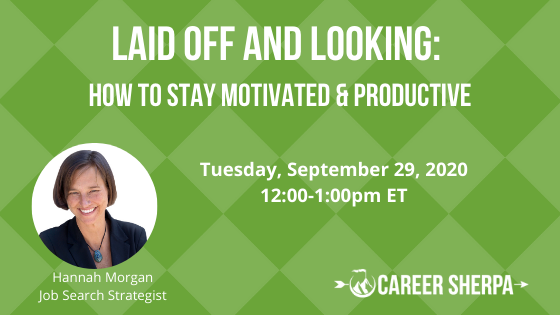 When you find yourself suddenly laid off and looking for a new job it can feel overwhelming.
If you find your self-confidence and focus fading, you aren't alone!
While this is new to you, what you are feeling is completely normal and happens to thousands of other job seekers who have also lost their jobs.
The Emotional Rollercoaster Is Real
You'll experience a range of emotions that often make it difficult to focus on your job search. Here's what happened:
You lost your work friends,
the structure of your workday,
income and health insurance benefits
and perhaps worst of all, you've lost your professional identity.
All this can take a toll on your mental well-being.
Oh, and did I forget to mention that all this is happening while we are in the middle of a pandemic?
I Know What You're Going Through
You see, I've helped thousands of discouraged, unmotivated job seekers just like you. You can turn this around! It just takes a fresh perspective.
I can't fix how you are feeling but I know you can, with a little guidance.
There's A Better Way To Get Through This
That's why I'm offering this free webinar.
Let me show you how to reset your job search and rediscover your motivation!

Laid Off And Looking Details
Date: Tuesday, September 29
Time: 12:00-1:00pm ET
Register here
You'll be taken to Zoom's registration page
Key Take-Aways
During this webinar, you'll learn what steps to take to help you stay motivated and on track!
Who Is This For?
Don't waste another week posting and praying for jobs online.
Your job search needs structure and a solid plan. And you deserve to feel confident and valuable!
I guarantee you'll come away from this webinar with at least one new idea that will transform how you approach your job search.
Sign up today!
You'll be taken to Zoom's registration page