So you are thinking about creating an infographic or visual resume! Congrats!
It is going to take more than pretty images on a page, so this cheat sheet should help get you started.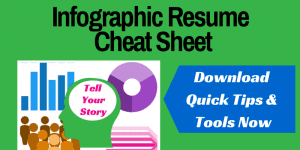 The cheat sheet provides you with quick information on infographic and visual resumes:
Ideas for how to get started creating one
Industries that are more likely to be attracted to them
6 Tools to create them
and more guidance to get you inspired to create a visually stunning document!