Looking for resources to help your job search? This lays out how and when to use some of the best job search websites to improve your job search results!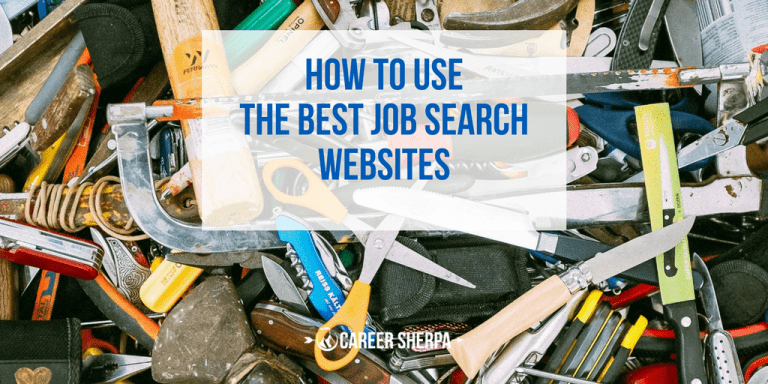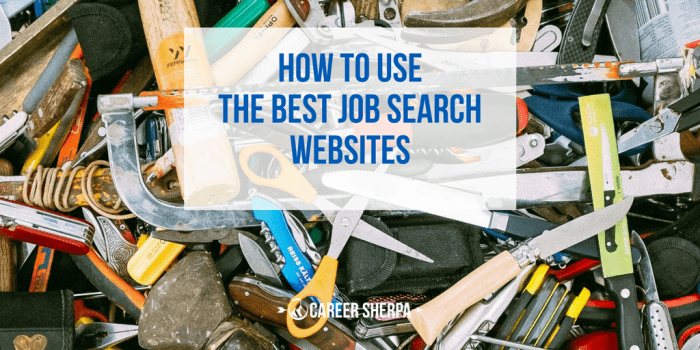 You'll want to refresh your knowledge on what it takes to land a job, especially if you haven't looked for a job in a couple of years.
Employee Referrals ranked as a Top Source of Quality Hires by 48% of hiring professionals (LinkedIn)

3rd Party Website or Job Boards came in second (46%)
Social Professional Networks came in third (40%)

It takes approximately 2 months for a company to fill a job (CareerBuilder )
You should care about an employer's reputation (Glassdoor )
Prepare for Job Search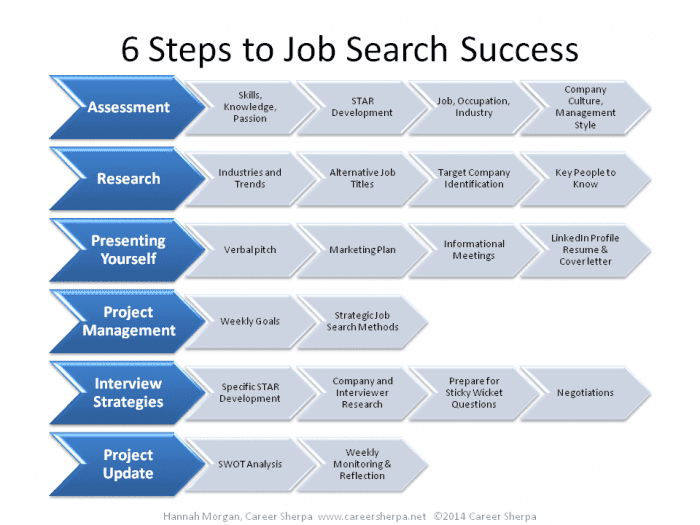 Before you begin polishing your resume, there are several steps you need to take first, as outlined in my process below. You can learn more about this process by reading 6 Steps To Managing Your Job Search
FYI: You can conduct a successful job search without paying a lot of money, but… savvy job seekers and careerists know when they need to invest in themselves.
50+ Best Websites for Job Search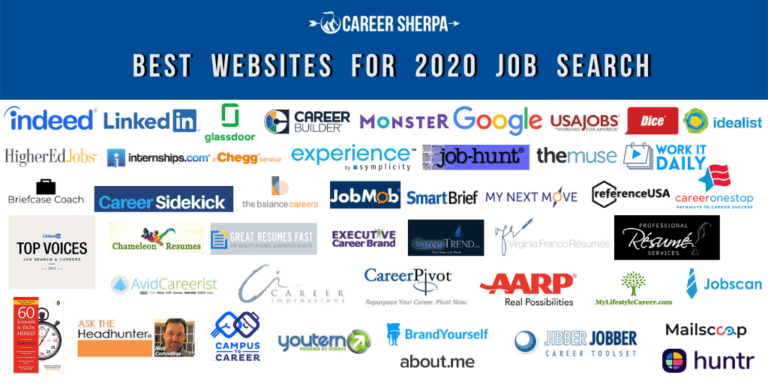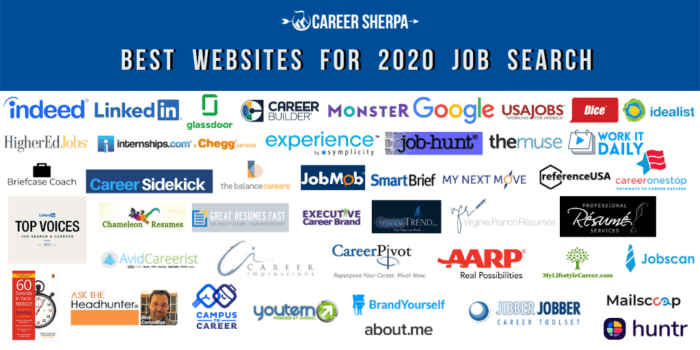 This list of Best Websites for job search IS NOT a list of job boards. It is a list of resources and information to help you job search better.
Using the 6 step framework, I'll walk you through which tools/websites are best for each step of the process.
SELF-ASSESSMENT
Before you start combing the job boards, your first step is to assess your skills, interests and the type of work environment you want.
The more you know about yourself, the easier it will be to identify your next role and write about yourself.
If you are interested in changing careers, this step is extremely important in helping you identify new options.
Even if you aren't interested in changing careers, you still need to know about your most marketable assets (the skills, experiences, and traits that set you apart from other similar candidates). You also want to know what type of culture you work best in.
My Next Move helps assess your interests, research careers and begin developing a list of skills and keywords to use in marketing yourself. This is essentially a database sponsored by the U.S. Department of Labor, Employment & Training Administration, and developed by the National Center for O*NET Development.
RESEARCH (Industry and Company)
Your next step is to understand how yours skills, experiences and interests match with what companies are looking for.
Research industries and companies you are interested in and learn everything you can about technology, industry knowledge and trends.
Use Glassdoor to research what employees are anonymously saying about companies, get salary information and learn what questions they've asked during interviews. Yes, they have job postings too!
SmartBrief compiles the latest news by industry to help you keep on top of trends. Pick the industry you are interested in and subscribe to get daily news updates or use their app (iOS only) to view the top stories from trade publications and professional societies. You'll find summaries of news from education, finance, food and beverage, health are, marketing & advertising, retail, tech, life sciences & technology, telecom, infrastructure, energy & chemicals, aviation & aerospace, travel & hospitality. Oh, and SmartBrief also has top stories to help you manage your career. SmartBrief On Your Career
SALARY RESEARCH
Research salary early in the process so when you complete online applications, you use an appropriate salary requirement. Use these salary calculators to help determine your value in the market place.
Glassdoor.com
Indeed Salary Search
NACE Salary Calculator (for new graduates)
PRESENTING YOURSELF & PERSONAL BRANDING
Now that you have a better understanding of what the labor market looks like, you can begin crafting your marketing materials. This includes your pitch, your personal marketing plan, resume and LinkedIn profile and conducting informational meetings.
LinkedIn is a category all in itself! Every working professional MUST BE using LinkedIn. It isn't just an online resume, it is a networking tool and resource you'll want to get familiar with. Use their iOS or Android apps for your smart phone too!
Resume and LinkedIn Crafting
Writing a resume is not easy. These sites write about how to craft resumes and LinkedIn profiles.
PERSONAL BRANDING/ONLINE VISIBILITY TOOLS
Part of your personal marketing tool kit is also getting yourself online. You'll need to be find-able online. These tools make it very easy to develop a "one page" summary of your experience and improve search results for your name!
About.me makes it easy to create a single webpage highlighting you. List your other social media profiles, create lists, join a community of people who value online visibility.
BrandYourself walks you through the steps to improve how your name ranks in search results.
SAMPLES & EXAMPLES
Looking for sample cover letters, resume samples, scripting on what to say? You'll find it on these sites.
Alison Doyle is the Job Search Expert for The Balance and provides advice AND examples of resumes and cover letters.
Easily and quickly customize your cover letter or any job search correspondence with these examples. There are also resume templates and articles, assessments and more!
Tools
Do you know how well your resume matches the job posting? And will it make it through the Applicant Tracking Systems (ATS)? Jobscan will help you "optimize your resume keywords and get past resume screeners." All you have to do is copy and paste your resume and the job description, then Jobscan compares the two to see how well you "match" the words used in the posting.
JOB SEARCH ADVICE
To successfully compete in your search for a job, you will want to use the most up-to-date strategies. Spraying and praying your resume on job boards isn't going to win you many jobs. These websites provide current information on job search. Whenever you have a question about your search, consult one of these websites for the best answer.
Great articles and information you'll want for all aspects of your professional life! It covers career advice, job search, career paths, management, and more! Bonus: every week you can see a list of featured companies with job openings.
THE authoritative site for anyone in job search! It has everything you need for job search, at any stage of your career! You will find tons of great advice on all aspects of job search and career management. [Disclaimer: I am a job search navigation expert on this site]
You will find relevant job search and career advice provided by "trusted career experts." This site used to be called CAREEREALISM. It has a new name with more help.
Sponsored by the Department of Labor, this site has information on starting your search, finding a career match, information on re-training, and more.
PROJECT MANAGEMENT (Job Search Strategies)
Using the job boards is only one of the job search strategies you should be using. You will also want to network, get in touch with recruiters, and specifically target companies where you think you would like to work.
TOP JOB BOARDS
Searching the job boards is one of the least effective job search methods. But it makes you feel good.
Job boards are a good resource of information. You can develop a list of keywords by reviewing job postings and understand what skills, words, and terms employers use to describe what they are looking for. I'll admit, not all employers are good at writing job postings, but they are getting better.
These are the top job boards you should set alerts on:
Indeed.com
SimplyHired
CareerBuilder
Specialty Job Boards
Using specialty or niche job boards can be a better alternative. Depending on your industry or occupation, these may help you. Ask other people in your industry what niche job boards they use or recommend.
Dice is known as being a job board for technical candidates (IT, etc.) However, the news and advice on the site applies to many more types of job seekers as well. Typically, the tech scene is leading the way in recruiting trends, especially as we head into a more competitive hiring market. And, I think you'll begin to see Dice leading the way with other forms of recruiting.
Because finding flexible jobs is difficult, this site helps round up all levels of legitimate opportunities. If you are looking for a telecommuting, part-time, freelance, or flextime job- you need to know about this site. It has job search advice for people looking for these types of jobs too!
Search for jobs at colleges and universities with this niche job board.
Idealist focuses on non-profit job postings, volunteer opportunities and internships.
LinkUp aggregates its job listings from employer websites. This allows you to directly apply on the company's website.
USA Jobs is the Federal Government's official source for federal job listings across hundreds of federal agencies and organizations.
Looking for an internship or entry level job out of college. This board is dedicated to recent college graduates.
Freelancing/Side Gigs/Side Hustles
With the gig economy on the rise, and job security diminishing- you may want to start freelancing for income security. You can check out these boards for a variety of freelancing opportunities.
Best Websites for Remote Work and Side Gigs
TOOLS TO MANAGE YOUR JOB SEARCH
During your job search, you will juggle many activities (from networking to applying to jobs). Organize your job search activities and stay on track. Sure you can use a spreadsheet or notebook, but is that the best solution?
JibberJobber is a web-based tool to organize and manage your job search! It goes far beyond a standard spreadsheet. It helps keep track of and manage relationships, job postings, target companies and more!
SOCIAL MEDIA JOB SEARCH
If you haven't fully embraced the idea of using social media for your job search, let me help. Read up on how to leverage social networks to land a job.
In case you didn't realize it, I write about ways to use social media to help you stay competitive in today's job search!
OVER 50 JOB SEARCH
If you are more seasoned (read older) job seeker, you need to understand the issues, biases and how you can spin your experience into a valuable asset!
Kerry Hannon is a AARP's job expert and covers issues that the older job seeker has to know in order to compete. You'll find all the issues you need to take into consideration while hunting down your next job as a more seasoned professional.
Marc Miller's focus is helping Boomers pivot into the next opportunity.
NEW COLLEGE GRAD & EARLY CAREER
YouTern's blog, Savvy Intern, isn't just for interns. The articles come from a variety of bloggers and apply to every job seeker!
INTERVIEWING
You can't just walk into an interview and land a job offer today. It takes a considerable amount of preparation. Learn everything you can about interviewing processes and best-practices to stand out!
Ask The Headhunter Nick Corcodolis
Nick provides interviewing and job search advice from a recruiter's perspective. He provides solid, straight-shooting advice. Nick answers job search questions most other recruiters won't or don't.
Robin is the author of my most favorite book about interviewing "60 Seconds And Your Hired." You can subscribe to her newsletter on her site. You can also read her job search tips here.
OTHER JOB SEARCH RESOURCES
There are lots more people writing great content about job search, but I have to stop somewhere. (See my Summary Sunday posts for work by many other strong voices). Here are some people I know, like and trust. Please check these sites out too!

Hannah Morgan speaks and writes about job search and career strategies. She founded CareerSherpa.net to educate professionals on how to maneuver through today's job search process. Hannah was nominated as a LinkedIn Top Voice in Job Search and Careers and is a regular contributor to US News & World Report. She has been quoted by media outlets, including Forbes, USA Today, Money Magazine, Huffington Post, as well as many other publications. She is also author of The Infographic Resume and co-author of Social Networking for Business Success.