Don't overlook how important it is to follow up on job leads in a timely manner. You don't want to miss out on an opportunity or tarnish your reputation.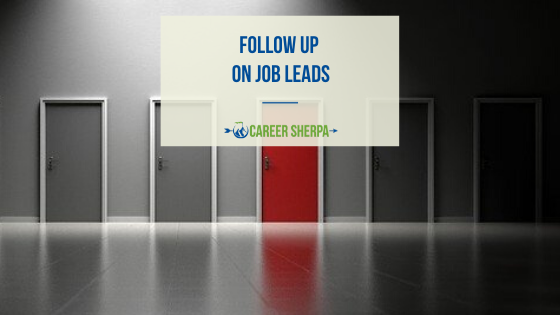 Why would you turn down the opportunity to talk to someone who might have information about a job? 
I was speaking with a colleague the other day and she told me a story of how one job seeker mishandled her referral to a job lead.
Here's the story
While attending a high school sporting event, my colleague happened to overhear two men talking. One man, dressed in a suit, was listening to the other man, wearing sweats, describe his search for employment. 
My colleague overheard enough to know the type of work sweat-pants-man was looking for so she politely said,
"I couldn't help but overhear you were looking for something as a nanotechnologist.  I have a friend who works at a company that has employed some.  I would be happy to provide you with his name."
She knew that this company was in fact hiring and was excited to help connect the two.
The response she got from sweat-pants-man was lukewarm. 
He said he would take the name and she wrote it on a piece of paper for him. That's good, right?
But, he didn't ask for her name, her email or phone number. 
Nor, it turns out, did he follow up with the contact name she had given him. 
How did she know? She called her contact and he never heard from the man.
Why Did This Happen?
I understand there could be many reasons why sweat-pants-man didn't follow up on this job lead. 
Fear of rejection
Lack of interest in the company
Not sure what to say
Lost the contact name
So I share this story to help you understand how you could be missing out on opportunities if you don't follow up on job leads.
Lessons Learned By Not Following Up On Leads
There are so many lessons in this. 
Always be ready in job search.  That means carrying personal business cards and dressing neatly.
Be organized.  Put together a system for collecting and following up on leads and contacts. And know that you have to learn something about the person referring you to a lead or contact and how they know the person they are referring you to.
Use your manners.  This woman deserved a thank you of some sort.  However, sweat-pants-man didn't even get her name or contact information.
Lastly, follow up on each and every lead you are offered

Hannah Morgan is one of this year's LinkedIn Top Voice in Job Search and Careers and a nationally recognized author and speaker on job search strategies.  She founded CareerSherpa.net to combine her career expertise with her love of writing, speaking and social media. Her mission is to educate professionals on how to maneuver through today's job search process.  Hannah is a regular contributor to US News & World Report. She has been quoted by media outlets, including Forbes, USA Today, Money Magazine, Huffington Post, MarketWatch, LifeHacker, The Muse, Business Insider, SmartBrief, Payscale as well as many other publications. She is also author of The Infographic Resume and co-author of Social Networking for Business Success.