OK, I got you with the headline, but first, can we talk about your job search approach…reactive or proactive?
Proactive Job Search
Defined by me (and others as well) as one in which you are seeking information from target company contacts about opportunities that may not yet be public.  A proactive job search is one you have control over.  Miriam Salpeter of Keppie Careers writes for On Careers and her post The Best Way to Take Control of Your Job Search has more detail (plus she references some of my tips!)
Reactive Job Search
This is the type of search where all you do is apply for jobs that are announced on job boards.  You spend most of your time just applying to jobs and are most likely one of hundreds or thousands applying.  Obviously, this type of search requires less effort and also nets poorer results.
Define Your Target Audience
Just ask yourself, "Who are the employers that would hire this type of position?".  If you don't know that answer to that question, ask people you know if they have the answer.  You can also visit your public library or check out some of the resources in Going Directly to the Source.
Now, On to the fun stuff!
If you haven't heard about Google Plus (Google+) yet, you will probably want to check it out.  Whether you are an active or a passive job seeker, this tool has some great features and Search Engine power (it is a Google product!). You can read more about the features and benefits of Google Plus on Google+ Opens Up…Should You Jump On for Job Search?
Finding Targets on Google +
After you have created your branded Google Plus profile and shared at least one interesting/on brand post/update on Google+, you are ready to create circles and start adding people to your circles.
I suggest creating circles by target company to make it easy and clear to follow what they are saying and doing.  If it is easier for you to create a circle called "Target Companies" that's fine too.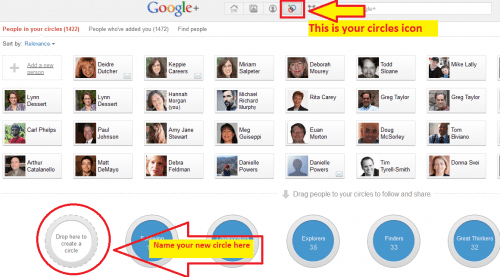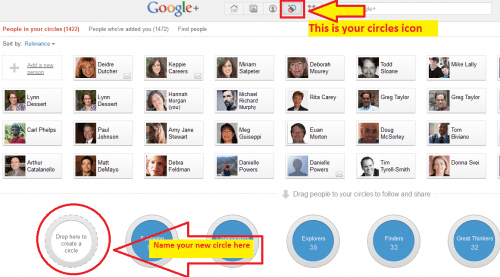 UPDATE: People on Plus NO LONGER AVAILABLE
Find People On Plus
Find People On Plus is a directory of GooglePlus accounts which you can search multiple ways.
For your purpose, finding people who work at target companies!
I live in the Rochester, NY area and so searching Eastman Kodak as a potential employer seemed the obvious choice (well, not any more).
As you can see from the shot below, there are 282 people who "work at" Eastman Kodak. (Careful, databases are not always 100% accurate)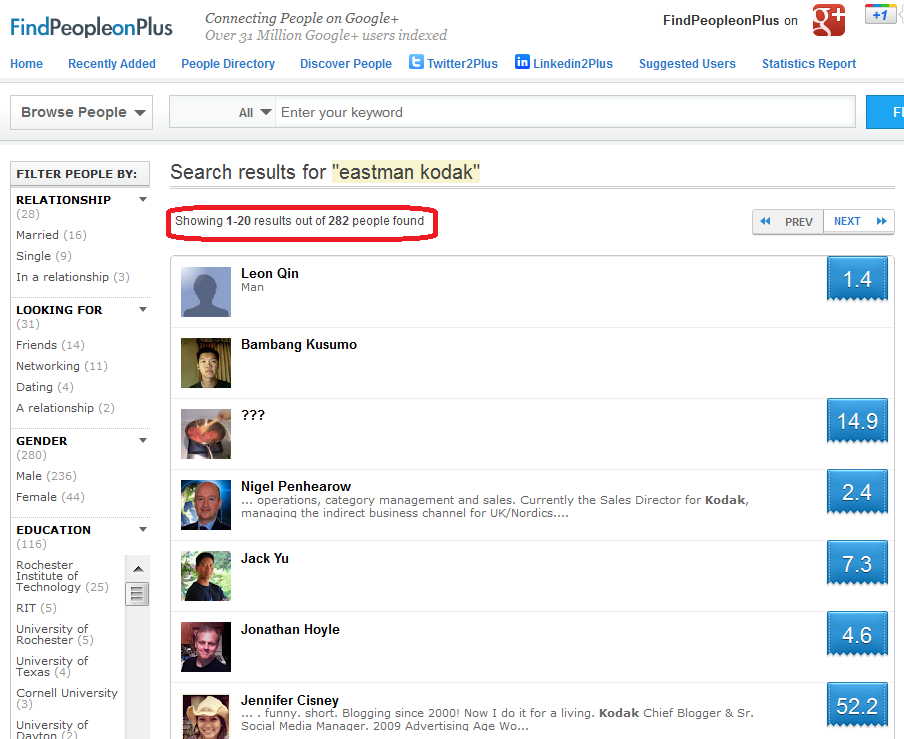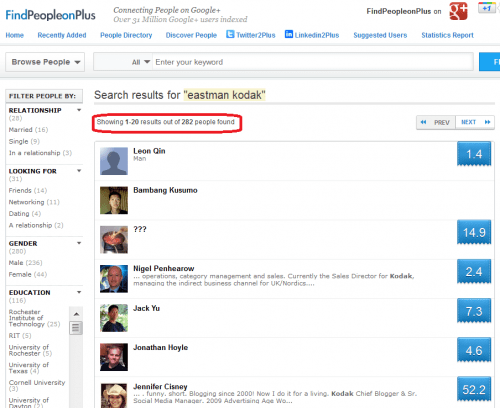 It will take you some time to add all these 282 people to your circles and actually, I wouldn't recommend that.  Add people who are actually using Google +.
As of yet, there is not an easy way to add mass numbers of people.  Building requires time!
You could also create circles for:
Recruiters
Friends
Your city
Your industry
Your occupation
Endless opportunities to network and expand your sphere of influence!
Google Plus
Of course you can search for the company name from Google+'s search window as well.  You will find all sorts of people and companies talking there! Select different filters "everything", "from everyone" or "from everywhere".  Go see what happens!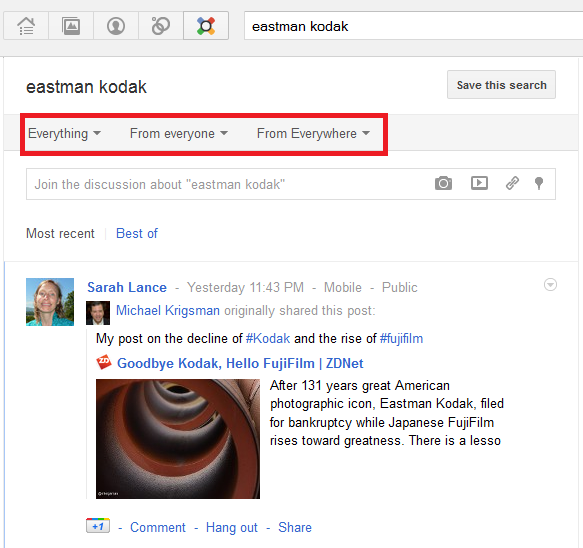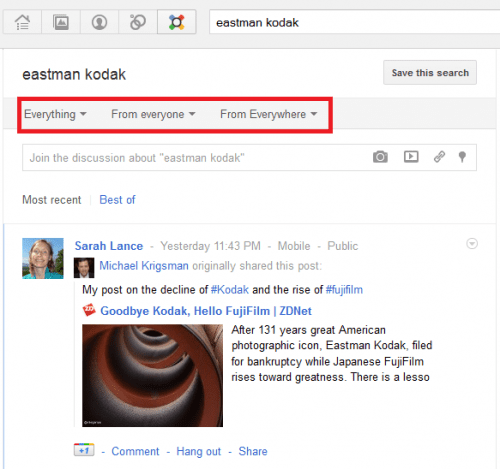 Now What
So you've got these people in your circles, big deal?!
Step 1: Go to your "Home"
Step 2: Select a circle
Step 3: See what they are saying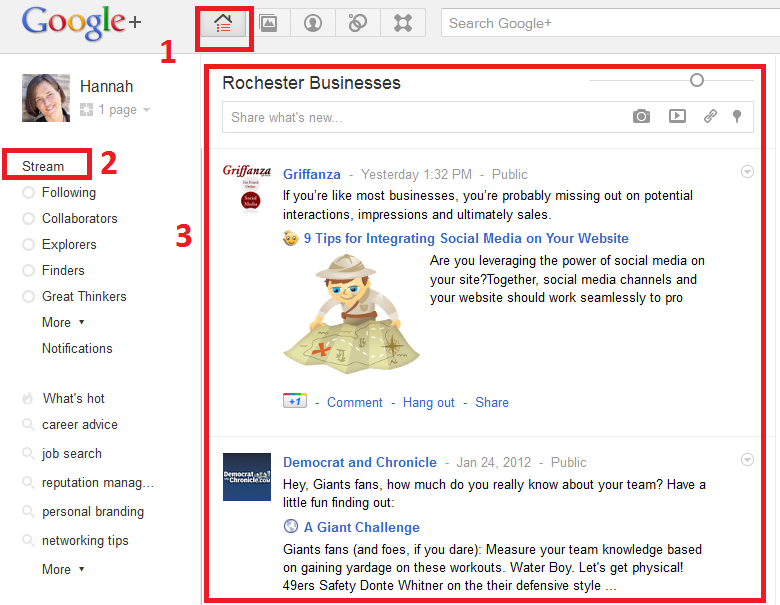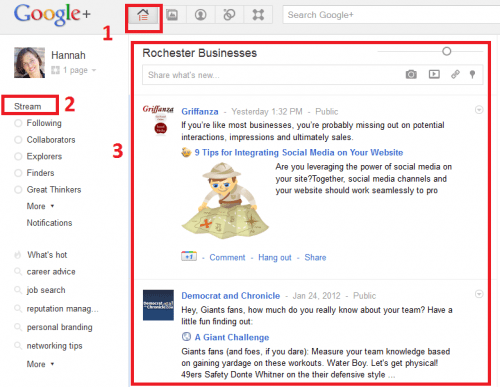 See what they are talking about (personally and professionally). Look for opportunities to join their discussions or share information they are sharing.  (They'll see you do that!) What you are trying to do, subtly, is get their attention.
I don't recommend contacting them directly and bombarding them with your agenda/your need for a job/you stuff in general. Are you wondering, So how do you begin talking to people about your job search?   Social networks are about networking and the number one rule of networking is to put other peoples interests and needs before you own!!!!
Add These Career Guides and Gurus
It is as simple as clicking on this image below (once you have a Google+ profile).  You can add my circle of career experts to your collection of circles and always be up to date on job search and career advice.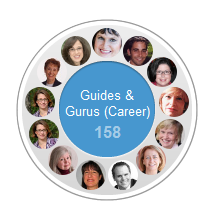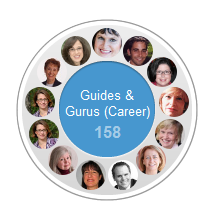 I plan to post several more of these "How To" posts for finding targets via Facebook and Twitter.  I've already written one on 3 Ways to find people on LinkedIn.

Hannah Morgan speaks and writes about job search and career strategies. She founded CareerSherpa.net to educate professionals on how to maneuver through today's job search process. Hannah was nominated as a LinkedIn Top Voice in Job Search and Careers and is a regular contributor to US News & World Report. She has been quoted by media outlets, including Forbes, USA Today, Money Magazine, Huffington Post, as well as many other publications. She is also author of The Infographic Resume and co-author of Social Networking for Business Success.