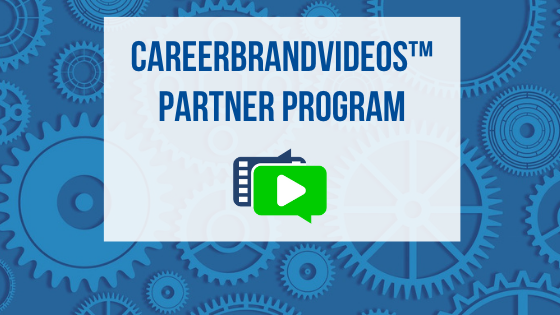 If you are a career coach, write Resumes or LinkedIn profiles or provide personal branding services to clients, the CareerBrandVideos™ Partner Program is an easy way to generate more income without a lot of effort.
During your work with clients, you learn a lot about them… their personality, unique personal brand and their success stories.
Sometimes it's challenging to get that all across in a resume or LinkedIn profile. But what about through a video?
No, they don't need to be on camera. Yet their stories can be conveyed in 3 powerful videos. (You can see examples of the three videos that come with CareerBrandVideos.)
The best part about our CareerBrandVideos™ Partner Program is that you don't need to build anything. We've done that. All you have to do is refer your clients to us or fill out the worksheet for them as part of your service.
And there is no upfront cost to you! You make money based on what you sell.
The CareerBrandVideos™ Partner Program
If this sounds interesting and you are ready to become a partner and generate more revenue, follow these 3 steps:
Read this page.
Review the CareerBrandVideos™ page. This should give you a good overview of the product, and how it can benefit you and your clients.
Click on the link at the bottom of this page for the Partner Program Application form, and complete and submit your application.
That's it. No investment on your part.
Next are 5 different ways you can use the CareerBrandVideos Partner Program to make more money without creating more work for yourself.
5 Ways to Increase Your Revenue as A CareerBrandVideos™ Partner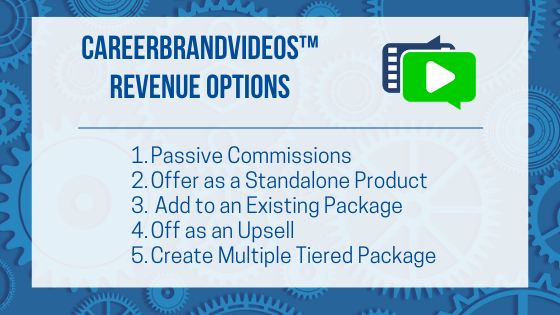 There are several easy ways to earn commissions as a CareerBrandVideos™ partner.
1) Passive Commissions
Earn 15% commissions by simply promoting CareerBrandVideos™. That means you get paid up to $255.00 for every client who purchases one of our CareerBrandVideos™ packages.
This is the easiest way to start earning as a partner, especially if you're new to affiliate programs.
When you become a partner, you'll be assigned a unique link that tracks back to you. Simply add that link in any or all of the following channels:
Articles and pages on your website
Blog posts you publish
Your email list
Your social media posts
When someone clicks on that link, they're automatically assigned to you in our system. Then, if they make a purchase within 180 days of clicking the link, you get paid a 15% commission.
The only work you have to do is put your partner link in relevant spots in any of the places listed above, or other appropriate places you choose. Even a moderately trafficked website or social channel can generate a lot of link clicks and commissions.
For example, you could add your link to the anchor text "video" in a blog post in which you write about video.
Or you could post a CareerBrandVideos™ image or banner on your site and use your partner link.
Naturally, if you want to promote it more actively, you can do that, too, and earn even more commissions. For example, you could send out occasional emails to your list talking about CareerBrandVideos™.
If you're proficient at paid advertising, you could create a paid campaign driving traffic to your partner link.
2) Offer as a Standalone Product
If you currently offer products or services, add CareerBrandVideos™ to your product listing.
Simply add your partner link (or banners we supply) to your website, blog, emails, newsletters, or social media to earn 15% commissions on every sale. The 3 videos can be offered in 3 different pricing tiers and pricing is listed below.
3) Add to an Existing Product Package
For example, if you sell resume and LinkedIn profile writing services, include CareerBrandVideos™ as part of your service.
Then charge whatever you like for the package.
4) Offer as an Upsell
Offer CareerBrandVideos™ as an upsell on any of your products. For example:
"Buy Product Z + a set of CareerBrandVideos™ and save X dollars."
"Buy Product Z + CareerBrandVideos™ and we'll give you Product C for Free."
5) Offer Multiple Tiered Pricing Packages
Consider offering multiple tiered packages with the various services and products you currently offer.
For example, you could offer 3 of your own product tiers with CareerBrandVideos™ featured on each:
Basic/Starter Package of yours with our CareerBrandVideos™ Starter Videos [lowest price]
Professional Package of yours with our CareerBrandVideos™ Essential Videos [medium price]
Executive Package of yours that includes our CareerBrandVideos™ Premium Videos [premium price]
Or, you could add CareerBrandVideos™ to just one of your tiered offerings.
You can get quite creative with tiered pricing. Tiered packages make it easier to sell your primary products.
In addition, they increase your average transaction value because a percentage of buyers will always buy the most expensive package you offer.
CareerBrandVideos™ Can Be Sold At 3 Pricing Tiers
As a partner you'll be able to sell CareerBrandVideos™ in 3 pricing tiers. The deliverable is always 3 videos but the level of service is different. Our current pricing to the client is as follows:
Starter $395
Essential $695
Premium $1700
You can get all the product details here.
Your commission for each sale is 15%, payable on or about the 15th of the month following the purchase.
As a partner, you also get 15% off any videos you purchase for yourself. We supply you with a partner coupon code that entitles you to the discount once you're approved.
How to Get Started as a CareerBrandVideos™ Partner
There is no investment required to sell CareerBrandVideos™ as a partner.
First, be sure to read the CareerBrandVideos™ page and watch the demo videos to familiarize yourself with the product. You may also want to see answers to Frequently Asked Questions (FAQs) about the CareerBrandVideos™ product.
Second, if you are ready to make the partner program work for you, click on the link at the bottom of this page for the Partner Program Application form. Then complete and submit your application.
Be sure to review our Partner Agreement before you apply. (The link takes you to Andre's Small Business Rainmaker site)
Once we get your application, we'll review it and get back to you in 2-3 business days.
Once you're approved, log in to your Partner Resource center and grab your partner link and other promotional material you'd like to use. Details will be sent in your welcome email.
Then begin using your unique partner link to promote CareerBrandVideos™ to your list and get paid on every sale you make.
The Co-Creators of CareerBrandVideos™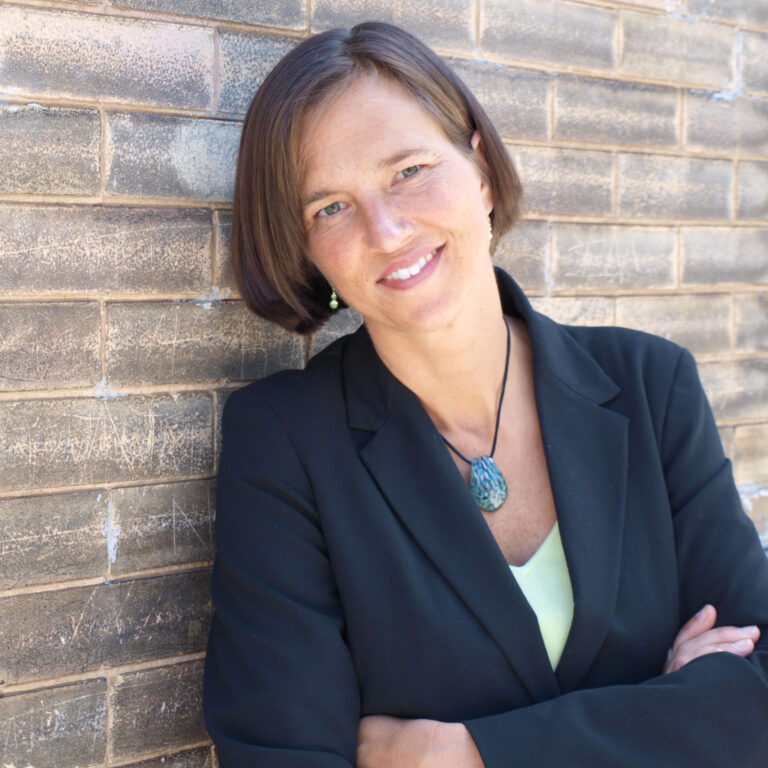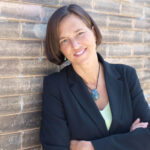 Hannah Morgan is the Founder of CareerSherpa.net and has been in the careers field for over 15 years. She was named as one of LinkedIn's Top Voices on Careers and Job Search in 2019.
She's been featured in Forbes, Kiplinger, and numerous national media outlets.
Hannah became known early on as an expert in social media for job search and career management. She was an early adopter of video for her own personal branding as an entrepreneur and for job seekers.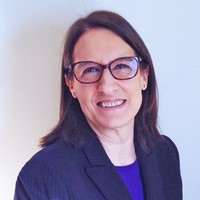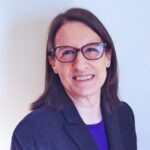 Meg Guiseppi, Founder of ExecutiveCareerBrand.com is a 25+ year solopreneur. She is a personal branding, LinkedIn and executive job search strategist who helps job seekers differentiate their unique value to Land a GREAT-FIT New Gig!™.
She is the Personal Branding with LinkedIn expert at Job-Hunt.org, a Forbes "Best of the Web" for job search and career.
Her career advice has been featured in Forbes, Huffington Post, Fast Company, Inc., Fortune, The Economist, the Wall Street Journal, and many other publications.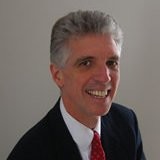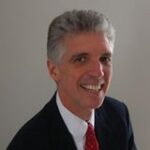 André Palko has tapped into the nearly 20 years he's been creating high-impact videos for small business owners, as well as various entrepreneurial ventures of his own.
He credits video with being instrumental in helping one of his businesses make it to the Inc. 5000 list of fastest growing companies.
The great video results he's witnessed are a prime reason he offers customized videos, video marketing apps and video marketing strategy sessions at the Small Business Rainmaker™.
How the CareerBrandVideos™ Partner Program Differs from Conventional Affiliate Programs
Our CareerBrandVideos™ Partner Program is structured similarly to traditional affiliate programs, which you may be familiar with. With most affiliate programs, you have little to no working relationship with the product provider. That's where we are different.
We use a personal, collaborative approach. Our hands touch each and every CareerBrandVideos™ we create for your clients and you. And you can reach out to any or all three of us at any time if you have questions, or need assistance or ideas. We're committed to helping your business succeed.
Join Our CareerBrandVideos™ Partner Program
CareerBrandVideos™ Partner Program Application Form
Once you submit your completed application, you'll be directed to Andre's Small Business Rainmaker site.