Don't you want to be a job magnet rather than a job chaser? People who are job magnets are known for their expertise, knowledge, skills or ability to connect to relevant resources. Are you any of these?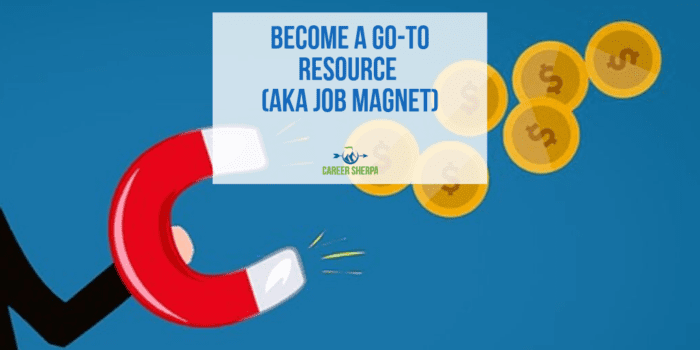 You may have the expertise, but only people who have seen you in action know about it. And I think it's a shame that only a handful of people know about you- don't you want to fix this?!
When you are recognized inside and outside of your company, you'll notice that people will begin seeking you out to pick your brain, ask for your opinion or help, or, best-case scenario, opportunities may magically appear. Just ask anyone who is well-respected how many inquiries they get from people they don't know.
Here's How Inbound Marketing Works
I read a lot about how to grow your business, and I think this is exactly the same as trying to grow your career and reputation! Ever hear of the sales funnel? Inbound marketing draws potential lead to you and it works like this (image credit HubSpot).
Attract With Content
In the world of inbound marketing, you'll see the term content curation. To learn more about what content curation is, you can read these 19 definitions of content curation on Heidi Cohen's site.
Companies use blogs/content to answer customers questions, help solve problems and serve as a trouble-shooting, go-to resource.  You may not be publishing your own content yet, but you probably already read articles, publications, books, etc., for your own professional development, so technically, you're collecting content, you just aren't sharing it.
Learn about the sources I use a lot to uncover relevant articles in this article Get Your News.
Finding content is step one.
You Can (and should be) A Publisher
Step two is to share the good stuff you discover! Make it easy for people to learn what you know! Share the content you round up as social updates on LinkedIn, Facebook, Twitter.
Here's the logic. People who see the content you write and share begin to recognize you as a valuable source of information.
One easy way to become a publisher is to use LinkedIn's long post Publishing function (blogging platform). It's free and available to anyone with a LinkedIn profile. Learn how to use LinkedIn to blog here.
It Worked For Me
These are the exact steps I took when I started. I found and shared great articles written by experts, started blogging myself, met a lot of really cool, influential people and now I'm flattered when I'm asked to contribute my thoughts on CNBC, Money, and other media outlets!
Next, learn how to get what you share more visibility:  Build Your Brand By Sharing Content.

Hannah Morgan is one of this year's LinkedIn Top Voice in Job Search and Careers and a nationally recognized author and speaker on job search strategies.  She founded CareerSherpa.net to combine her career expertise with her love of writing, speaking and social media. Her mission is to educate professionals on how to maneuver through today's job search process.  Hannah is a regular contributor to US News & World Report. She has been quoted by media outlets, including Forbes, USA Today, Money Magazine, Huffington Post, MarketWatch, LifeHacker, The Muse, Business Insider, SmartBrief, Payscale as well as many other publications. She is also author of The Infographic Resume and co-author of Social Networking for Business Success.